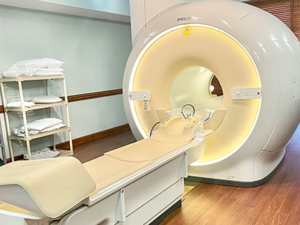 CDC Northside is the only facility in the region with the Philips Ingenia 3.0T, the first-ever digital broadband MR scanner with a truly unique patient experience. This revolutionary system delivers superb image resolution, fast exams, and a more open patient experience.
The Ingenia 3.0T, with its 70 cm bore, is more open and less confining than 60 cm MR systems. It was designed for patient comfort and features like ComforTone and the larger bore were designed to help the patient relax.
The open system also allows us to image patients of varying size, age, and physical condition, which means you can potentially send more of your patients for noninvasive MRIs than you may have considered before.
It's fast. Our Ingenia 3.0T can scan patients of varying size, age, and medical condition in less time than previous MR systems on the market. Routine exams of the brain, spine, knee, ankle, and liver are quick and easy. And even more complex scans may only last 15 to 40 minutes.
It's comfortable. Our revolutionary new Philips Ingenia 3.0T has a wide-bore opening designed to make you feel less confined. In fact, most scans can be done with your head completely out of the system.
It's reliable. The Philips Ingenia 3.0T delivers the revealing images your doctor needs to help diagnose your medical condition correctly. This makes it easier for your doctor to identify and pinpoint any potential problems resulting in more reliable exams.
Featuring O-MAR XD for Metal Implants
O-MAR XD (Metal Artifact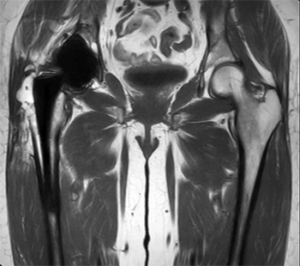 Reduction) allows for improved visualization of more soft tissue and bone in the vicinity of MR Conditional orthopedic implants by reducing in-and through-plane susceptibility artifacts caused by metal implants. This allows for post-operative MR imaging to patients with implants who could develop implant-related conditions.
Magnetic resonance imaging (MRI) is one of the safest and most accurate imaging techniques available. It combines a powerful magnet with sophisticated computer technology and radio waves to produce detailed pictures of organs and soft tissues to diagnose a variety of medical conditions.
The MRI suites at our facilities are naturally lit and spacious. We offer a variety of patient comfort features including CinemaVision, headphones for movies, music, eye pillows or sleep masks, and a two-way communication system to speak with the technologist at anytime during the process.
An MRI experience can be described as somewhat loud to those who have never heard it before. You may be interested to hear what it sounds like before your visit.
Keep in mind that you will be wearing headphones to block out much of the noise that you can hear in the
sample sound file
. If it makes you more comfortable, you are invited to bring your favorite CD to listen to during the exam.